When you think of the Hamptons, many things probably come to mind – fabulous parties, rich and famous people, beautiful beaches, and an abundance of luxurious properties.
With the popularity of this area as a vacation destination and upscale living, one aspect is frequently overlooked by homeowners: the importance of paver cleaning.
The Hamptons is a beautiful place with many different sights and attractions, and residents value aesthetics. They understand that a driveway or walkway can significantly increase the value of your Hamptons property.
It's one of the first things visitors notice when they arrive. However, if the exterior is not properly cared for and maintained, it can have the opposite effect on the appeal of your home.
If you're thinking about selling or renting out your home soon (or even just thinking about it for some time in the future), one of the factors you should consider is the benefits from routine brick and paver cleaning, sanding, and sealing to avoid costly repairs down the road.
Dirty Pavers Can Become a Danger to Residents When It Rains
A popular paver choice for driveways and patios in the Hamptons is natural stone. These lovely and timeless surfaces are very common in the area and can be found in nearly every home.
We all adore these lovely homes with charming details, but there is one major drawback: they must be cleaned on a regular basis. Due to the warm and humid climate, many paver materials tend to attract algae and fungi on their surface. Although they may not necessarily harm the pavers right away, they can make them extremely slippery when it rains.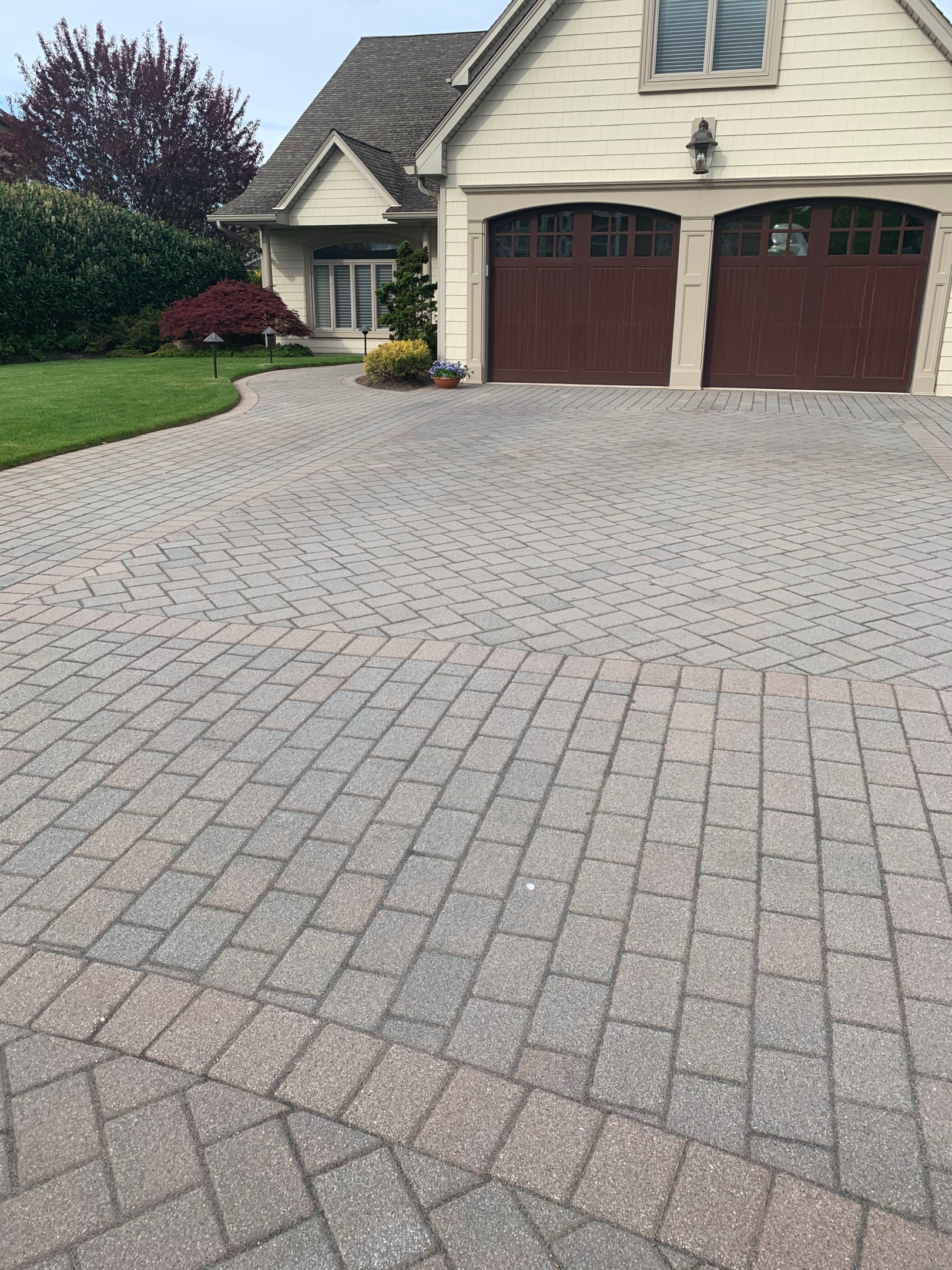 Improve Curb Appeal
If you want to sell your house or rent out your apartment, curb appeal is crucial to getting the best price.
But when the driveway leading up to your property is filthy, it doesn't exactly scream "come on in!" We can agree that it is much more welcoming when it is clean and pristine.
Most people make judgments on first impressions, so if you want to attract the right people, it's wise to start with the first thing people see. This means ensuring your driveway, walkways, patios, and other paver surfaces are free of stains, weeds, and debris.
Dirty Pavers Can Lead to Costly Repairs
Mold and mildew also begin to accumulate on paver surfaces throughout the seasons. Although this can make a location appear less appealing, it may not be a major issue for some. However, it is important to consider what may happen the longer this bacteria is left to fester. The more time the mold or algae has to grow on the surface, the more likely it is to cause the brick structure to weaken and shift, which allows weed growth and debris to get caught.
With proper care and maintenance, a surface investment like pavers or bricks can last a lifetime.
Dirty Exterior Surfaces Can Carry Health Risks
Contaminants such as lead, arsenic, and cadmium have been found in high concentrations on dirty bricks and the sand between.
The Hamptons is not only a beautiful place to live, but it's a popular destination with a thriving tourist industry. Nobody wants to visit somewhere they're not sure is safe and could cause them harm. This is another reason to keep your outdoor masonry clean and sealed.
Cleaning your outdoor pavers
Patios, driveways, and walkways collect an enormous amount of stains due to the porous nature of the material. With all the spills, caked-on filth, and organic growth from the elements, it takes the right equipment and approach to get these decorative surfaces cleaned properly.
Using a combined method of pressure washing and special eco-friendly cleaners, we employ a slow, measured approach to guarantee that all paving stones are given the same amount of attention. This ensures that none of the pavers sink or move, and all outdoor surfaces are left looking clean and new.
The experienced professionals at Gulf2Bay SoftWash will do an excellent job cleaning your home exterior.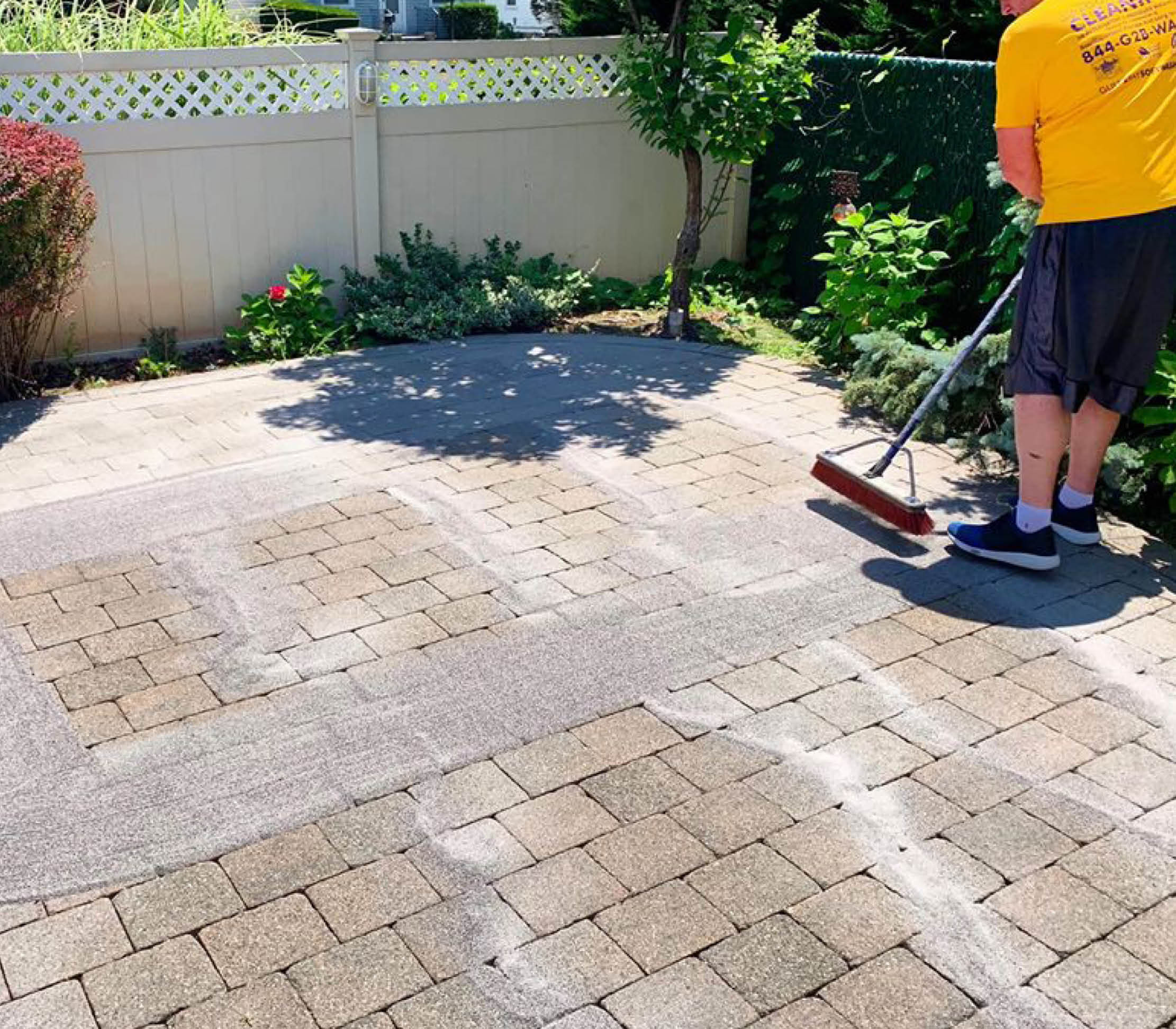 Finish Your Outdoor Projects with Sanding and Sealing Pavers
Once the cleaning process is complete, sanding the pavers is recommended to restore the pavers to the original look, followed by the application of a sealant to ensure the results of the cleaning last.
Adding joint sand between the pavers will stabilize them and inhibit weed growth, as well as reduce sand washout and prevent insect infestation. This is followed by the application of either a matte or gloss sealer to keep everything protected and looking beautiful.
Concluding Thoughts: Hamptons Residents Should Invest in their Home's Exterior
Getting your brick, pavers, or natural stone regularly maintained will help to protect them from long-term damage. Cleaning and sealing these surfaces is essential to ensure they last longer, are easier to keep clean and preserve their beauty.
Ideally, once a surface is newly installed and a sealer is applied, a maintenance plan should be put in place to keep it looking beautiful for a lifetime.
To protect your investment in the Hamptons, contact Gulf2Bay SoftWash in Long Island, NY. We offer professional property cleaning services such as roof, window, and deck restoration, including paver cleaning and sealing.
Call us today at 844-422-9274 to speak to one of our cleaning experts!